Hello Friends-
I think we are going to make it! Josiah is no longer jaundiced and has officially gained back the weight he lost and is now 1 oz. over his birthweight. He is doing much better with his eating and has been eating without any breastmilk supplements. Yahoo! Now to indulge you with pics from the last couple of weeks: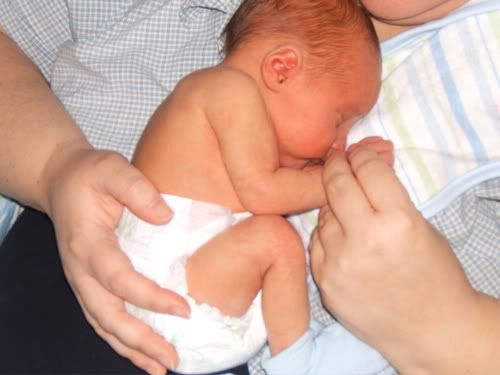 Here's a picture of our little peanut



This is a picture of me finger feeding Josiah- this is what we had to do in addition to Dana breastfeeding- to help him get the full amount of food that he needed to grow and get over the jaundice. You can see the little catheter alongside my finger which we used to pump the extra breastmilk through.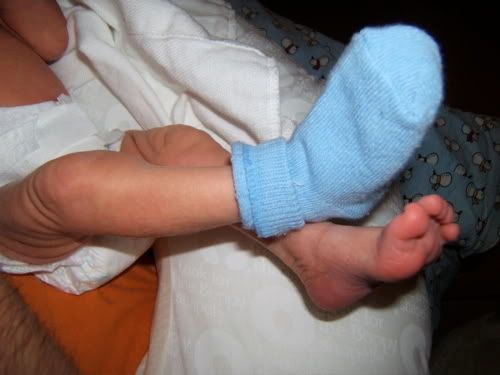 Ok. So I have to tell you why I love this picture. Everytime Josiah finishes eating he will go from a curled up, snuggly fetal position to stretching out his little arms and legs and holding them out mid-air until he is satisfied. He then promptly collapses back onto the boppy pillow with a full tummy. Here he is stretching his little legs out!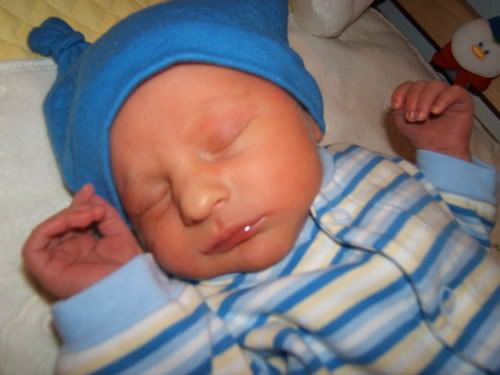 A closeup of the little Boobivore



Josiah in his carseat looking ultra-cute before we go to get his blood drawn at the lab to test his billy-ruben level.



Ok. So I got a wild hair 2 nights before Christmas because we had no Christmas goodies. So I went on a rampage and made Almond Joy Cookies (hello- so scrumptious- just ask me about them and I will extol their chocolatey, coconutty, chewy virtues) and Peanut butter fudge. Here we are licking our spoons after pouring the PB fudge. MMM good.



We took this picture to show the diminutive nature of our little son- so for some perspective, we put Josiah up next to a 16oz. Starbucks coffee tumbler. He won't stay this little for long...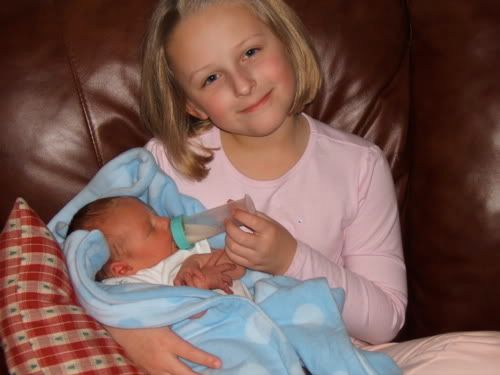 Big Sister Dara is always ready to lend a helping hand-- except for when it comes to changing diapers!



Just had to share this picture of our beautiful girl in her Christmas PJ's on Christmas Eve. We are blessed with two beautiful children!!

Well thats all for now- more soon. Thanks for keeping up with us!
Shawn & Fam