Yes folks- we were suprised too!! Yesterday afternoon our nursing staff at Adventist told us they were confident that we could go home. So they went over a ton of paperwork, talked to us about caring for ourselves and Josiah and turned us loose about 5:30pm. Josiah had been eating so well, that instead of keeping him and monitoring him over the next couple of days, they felt certain that he would do just as well, if not better at home.

So we got home last night to a very excited big sister Dara and Nana, who had dinner waiting for us. Here's a pic of Josiah with Dara in front of our Christmas tree: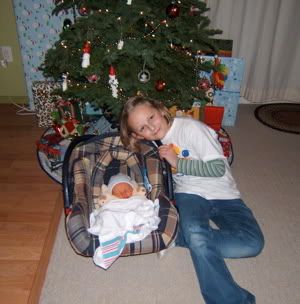 So cute!! Our two greatest gifts together under the Christmas tree!

So transition home has been a bit interesting- gone are the days of trying to keep the house clean- there are piles of things everywhere. Sleep is now (next to caring for Josiah and Dara of course) the #1 priority. I woke up with Dana every three hours last night to help feed Josiah. Until he builds enough stamina to feed on both breasts, we are "helping" him eat a little by pumping a small amount of supplemental breastmilk through a syringe and tiny catheter-like tube, while he is breastfeeding with Dana. Its definitely a two-person job. So here's a snapshot of my thoughts last night:

Alarm goes off... Oh gosh... it's time to get up already- I just laid down. Shake Dana. Go change Josiah's diaper and wake him up. Is it possible to sleep standing up? I sure hope so- cause I have to do this again in a couple of hours. The fog slowly lifts... He is so dang cute! I love the way he yawns and stretches and starts smacking his lips- oh yeah... dinners coming buddy! We get the feeding started. We ooh and aah, and talk to our little man, tell him what a good eater he is, how proud we are of him. Half an hour later, get him dressed and swaddled up- reset the alarm, collapse in bed, promptly black out. Repeat. We are having so much fun. Its amazing after you muddle through your tiredness how coherent you get and you just fall in love with your baby over and over again.

This morning I took Dara to school, picked up a Grande Vanilla Americano with an inch of cold eggnog at Starbucks, picked up gauze at the pharmacy to care for Josiah's circumcision, ran into Spanky's (our local consignment store) to pick up a handful of preemie clothes. We weren't prepared for him to be so small. For months all we heard about was how he was so big- measuring long, in the 80% for his development. Then we deliver early and we have hardly any preemie clothes (he just swims in them- I can't imagine him wearing 0-3 any time soon!). Thanks to our friend Josie DeHaven, who was kind enough to drop some preemie clothes from baby Dominic over, Josiah has something to wear. And then I tuned into 1330 AM, to hear our church, Current's, radio broadcast that we kicked off this week. You can tune in to our radio broadcast Monday-Friday from 9:45am-10:00am. Joseph has been working on some awesome messages for our broadcasts. I'd really encourage you to listen sometime- you'd be suprised what can fit into 15 minutes of airtime- God has really been speaking to Joseph and giving him some amazing content for these times. This is going to be a wonderful feature and part of our ministry at Current- so I'd encourage you to check it out!

Thanks for being patient about updates and pics- the transition home took a bit of time and energy. Here's proof from 4:30 am this morning:


See you soon! Like my snowmen pajama pants?