Howdy Friends,
Long time no blog! Surprise, surprise :)
Work has been keeping me very busy. It has been a fast 3 months at my new job at Adventist Medical Center. I am really enjoying my work there- it has been an entirely different world than my previous one at Christ Community, but the change has been good. My days are filled in meetings with different hospital departments navigating through remodel challenges, producing construction reports, following up on equipment decisions and more... Looking ahead we have just under 7 months to bring the first phase of the project to completion and so far we are on target.

Things on the homefront haven't slowed down either- Dara is enjoying 3rd grade and has been keeping up with her piano lessons and nightly homework. She and I went out for a date the other night to watch the American Girl "Kit Kittredge" movie (good movie by the way), it was nice to have some time together just for the two of us.

Josiah is growing, teething and crawling! Yes, you heard it first here. The little "wunga" as we call him, is on the move! (Don't ask me why we call him wunga, we just do!) Actually, I remember why we call him wunga now. When we would get Josiah undressed and ready for bed sometimes his onesie would get stuck on his head. We would leave it there and call him "King Bubbawunga", which has now been abbreviated to just "wunga". Wow. Etymology of Klinkner family nicknames.

In any case, it is high time you see some of the latest pics, so I won't bore you with details: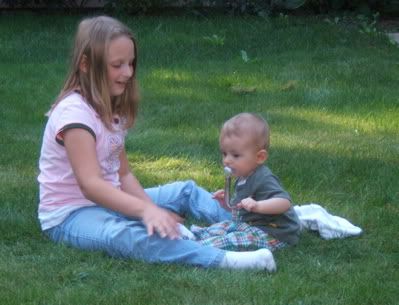 We had a beautiful fall day, decided to go lounge in the backyard on a Sunday afternoon.



Josiah with his first experience touching grass. He just pawed at the grass, mesmerized by the texture.



Dara working on homework- loves 3rd grade.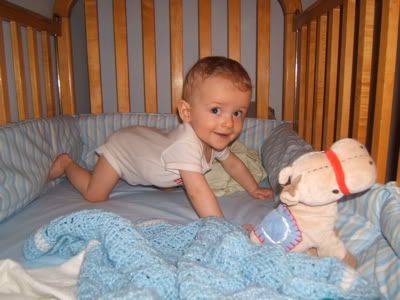 Josiah learning to crawl in his crib.

Dana has had her hands full with me being gone so much more, managing both kids and our home. She's doing a great job too. Its a full life, and a good one. We are looking forward to a trip to the pumpkin patch tomorrow- the weather has been so pretty the last week, crystal clear blue days, brilliant fall color and crisp foggy mornings. Mmmmm. Time for a hot cup of tea and my blanket. Hope to post again soon!