Monitors ring, are you listenin?
In the nursery, babes are sleepin'
It's a beautiful sight- we're happy tonight
Walkin' in a Labor Wonderland!

So here we are at the Adventist hospital- its 9:12pm and Dana has been released from bedrest! She was eager to get up and walk around the Family Birth Center, so up we arose- we were walkin in a Labor wonderland. Elaine, Dana's mom, has joined us for the labor process. Right now they have started Dana on a medication that will help finish softening her cervix- and it can stimulate labor- its usually what they start with before the pitocin. SO, she has had some decent contractions, but they are still building in strength and regularity. Unless there is a dramatic change we will probably rest for the night and their plan is to start pitocin in the morning unless she goes into serious labor.

We have had some good reports from Wayne and Dara. After school, they did homework and piano practice and then they went to see Mr. Magorium's emporium at the theater complete with Skittles and Popcorn and dinner at Red Robin afterwards. So by all appearances Dara and Pop Pop are having a great time. So here are some fun pics for all you Klinkner baby hopefuls - more updates and hopefully cute baby pics soon!



Dana, Walkin around in the Family Birth Center... modeling some gorgeous eveningwear (ooh, ahh)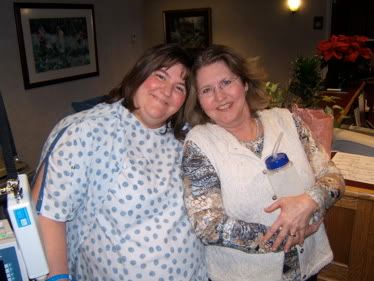 Dana and waterbottle bearer/mother extraordinaire, Elaine
Shawn & family