Ok- so we aregoing to do a bit of time travel today and recap some of the fun events of the last month. With Dana's surgery and recovery, it sort of eclipsed some of our regular routine. So here's the catch up:

Happy Birthday Dana!!


Dana turned 37 years old on April 21st. We celebrated with some fun gifts and a nice dinner out at Rose's Bakery and Deli. Dana recommends the Vienna Mocha Torte if you ever have the chance to visit there. Some of her favorite gifts were some new Amuse Rubber Stamps and card making supplies (surprise, surprise)!

On another note- we also celebrated another fun event (although not so auspicious). But Dara and I traveled to several local stores for the Webkinz Day Extravaganza. For those of you who do not know about Webkinz, they are small stuffed animals that come with a code that you log on and enter online to adopt a virtual pet. These virtual pets are yours to care for- you get to make them a home, feed them, play games and earn kinzcash (the currency of Webkinz World) etc... The whole website is fantastic- and Ganz has really done an outstanding job with it. It is educational, fun (and Dana I have been known to play too!) So the Webkinz day extravaganza was to celebrate Ganz' 3rd anniversary of releasing webkinz. For every $10 spent at a participating retailer, you got a free Webkinz pet. There were also fun games and prizes for participants.

Dara and I picked up her friend, Emily, and we went to a store in Portland where they had the "Wheel of WOW" - like the one you get to spin in Webkinz world. Just FYI, the Wheel of Wow, online, is a game kids can play daily where their pet gets to spin and they win prizes. Well, there was a real live Wheel of Wow at this store and Dara got to spin. Here are some pictures from our adventure:


Dara and Emily outside CardWorks in Portland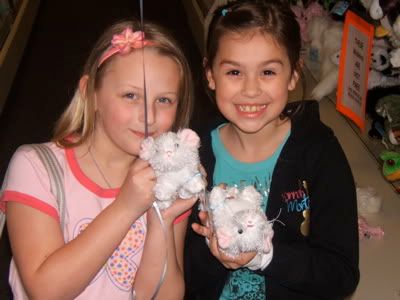 Dara and Emily with their newly purchased Lil' Kinz White Mice, named in honor of the story of the country mouse and city mouse, Millie and Tillie.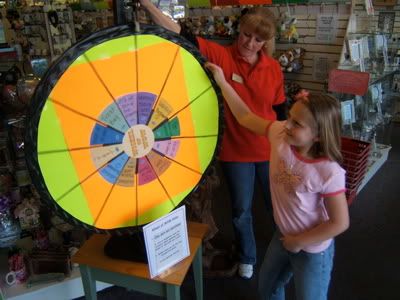 Dara spins the Wheel of WOW

All in all Dara made a haul over the weekend. Our little webkinz collector was able to win 2 free pets from contests she participated in, a pack of free trading cards, 2 free mouse pads, not to mention an additional 3 free pets from the pets she saved money to buy (and the one that Daddy and Grandpa Bill bought for her!) Can I just say that God knows the desires of this little girl's heart??

And now (drumroll please...) for some of the latest and greatest pics of the cutest baby ever......... JOSIAH!! By the way, the cutest baby ever is officially 5 months old today! Happy 5 month birthday Josiah!


Bathtime is fun- he used to cry, but now he is starting to enjoy it!



Josiah loves his Super Teether from Discovery Toys (Thank You Great Aunt Susan!) He loves to gnaw on this thing- and by the picture you can tell he's excited!

And lastly, some way fun pics from my garden. Everything has been coming back to life and growing. Its so neat to see how the plants mature from year to year. My bleeding heart plant is absolutely enormous this year (its a little over 3 feet tall!!) Here's a close up of the blooms: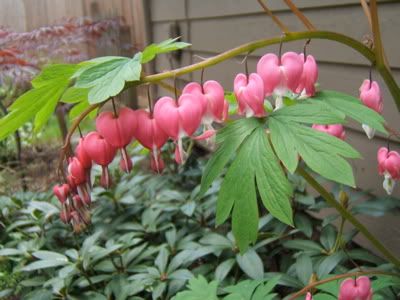 I almost think this would be way cool as a wallpaper for my desktop... hmm... I think I am going to experiment with that!

And this variegated Hosta postively glows in my yard- its lemony yellow variegation really lights up the southeast corner of my yard.



Well, thats all for now- I promise more adventures and pics soon. As well as a recipe for a fun new side dish that Dana and I have been thoroughly enjoying. Stay tuned!!